Presentations, Publications, & Working Papers
Featured Publications
November, 2018
This series of essays written for trustees and administrative leaders of universities and colleges draws on the authors' extensive consulting experience, research into the dynamics of boards, and service as trustees, to focus on practical insights that will help readers improve governance. The authors have contributed a series of essays on governing well to Inside Higher Education, which formed the inspiration for this volume.
The primary aim of the book is to provide insight that boards can use to enhance their governing practices. The author's take is not a "how to do" book but rather one on "how to think." Their basic premise is that too many boards are underperforming because they adopt or continue ineffective practices. However, thinking in more intentional if not new ways about not only what they do as boards, but how they go about their efforts, will help boards add value to the institutions and state systems they govern. The authors use thought provoking-titles and a conversational tone to engage the readers, get them to reflect on their work, and broaden their horizons.
For additional information please visit https://styluspub.presswarehouse.com/browse/book/9781620368398/Practical-Wisdom.
Book reviews and recommendations: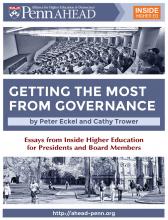 July, 2017
Publications
We know that presidents continually seek to engage their boards in ways that add value. To assist them, Penn AHEAD's Senior Fellow and Director of Leadership Programs, Peter Eckel, together with Cathy Trower of Trower and Trower, wrote a series of essays on board governance for Inside Higher Education. We anticipate that you may have seen some of these essays throughout the year, and wanted to share the entire series as one single booklet.
We hope that you will find some value in these essays. Please feel free to share them with leaders and board members you know.
As you explore the questions and opportunities related to your board and its work, please don't hesitate to reach out to ahead@gse.upenn.edu or to Peter Eckel at eckelpd@upenn.edu.
Thank you for your readership!