Taking It to the Streets: The Role of Scholarship in Advocacy and Advocacy in Scholarship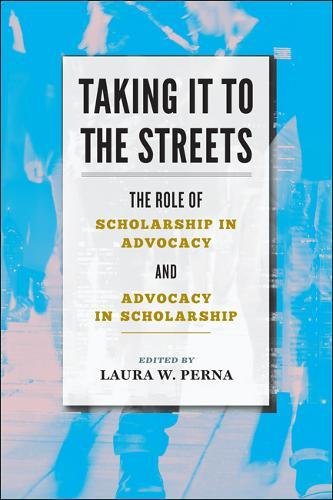 Edited by Laura W. Perna
Paperback, 160 pages
Johns Hopkins University Press
March 20, 2018
ISBN: 9781421425467
Higher education scholars often conduct research on topics about which they care deeply, but to what extent should they be advocates for reform and social change? One school of thought believes researchers should remain dispassionate and data focused; the other, that a researcher, by the very questions she asks, can help effect social change. In this book, Laura W. Perna questions how, why, and when higher education researchers should be public intellectuals and whether, armed with research, they are—and should be—a powerful force for change.
Taking It to the Streets collects essays from nationally and internationally recognized thought leaders with diverse opinions and perspectives on these issues. With the intentional inclusion of voices on different sides of this discussion, the volume offers a thought-provoking and nuanced understanding of the multifaceted connections between higher education research, advocacy, and policy.
Contributors: Ann E. Austin, Estela Mara Bensimon, Anthony A. Berryman, Mitchell J. Chang, Cheryl Crazy Bull, Adam Gamoran, Sara Goldrick-Rab, Shaun R. Harper, Donald E. Heller, Adrianna Kezar, Simon Marginson, James T. Minor, Jeannie Oakes, Laura W. Perna, Gary Rhoades, Daniel G. Solorzano, Christine A. Stanley, William G. Tierney
CONTENTS
Introduction: Taking It to the Streets (Laura W. Perna)
A Day Late and a Dollar Short: The Relevance of Higher Education Research (James T. Minor)
Changing the Course of History: Imagining New Possibilities for Addressing Old Business (Mitchell J. Chang)
Using Postsecondary Research to Influence the Policy Process (Donald E. Heller)
The Activist as Intellectual (Simon Marginson)
Researcher as Instrument and Advocate for Inclusive Excellence in Higher Education (Christine A. Stanley)
Commitment to a Scholarly Life of Contribution, Meaning, and Satisfaction: Engaged Scholarship as Research, Translation, and Advocacy (Ann E. Austin)
Choosing How, Why, and to Whom We Profess: Negotiating Professional Neutrality in Public Scholarship (Gary Rhoades)
Bridging the Artificial Gap between Activism and Scholarship to Form Tools for Knowledge (Estela Mara Bensimon)
So That the People May Live: Research and Advocacy—from Indigenous Circles to the Public Domain (Cheryl Crazy Bull)
My People's Professor: Research for the Humanization and Liberation of Black Americans (Shaun R. Harper)
Listening to Students (Sara Goldrick-Rab)
Why Racial Microgressions Matter: How I Came to Answer That Question and Why I Do the Work I Do (Daniel G. Solorzano)
A Road Less Traveled: The Responsibilities of the Intellectual (William G. Tierney)
Using Philosophy to Develop a Thoughtful Approach to Going Public or Not (Adrianna Kezar)
Research for Policy in Higher Education: The Case for Research–Practice Partnerships (Adam Gamoran)
Public Scholarship: Researchers Contributing to Equitable Diverse Democracies (Jeannie Oakes and Anthony A. Berryman)
Contributors 
Index
REVIEWS & RECOMMENDATIONS
"Tackling an important topic from a variety of perspectives, Taking It to the Streets brings together a stellar lineup of experts in higher education."
— James Soto Antony, Harvard University, coeditor of Challenges in Higher Education Leadership: Practical and Scholarly Solutions
"Can higher education research be a driver of equity and social change? Yes, it must! This collection of essays from notable scholars aptly outlines various paths and approaches to the integration of scholarship and social justice. Research conducted solely as an academic exercise can no longer be justified."
— Michelle Asha Cooper, Institute for Higher Education Policy, coauthor of Becoming a Student-Ready College: A New Culture of Leadership for Student Success
"Taking It to the Streets is a critical contribution to conversations about connections and contradictions between scholarship, advocacy, and policy. The expert cast of scholars consider perspectives rooted in history, policy, race, philosophy, and inclusive excellence to prompt readers to grapple with the enactment of social change in higher education."
— Lori Patton Davis, Indiana University, editor of Culture Centers in Higher Education: Perspectives on Identity, Theory, and Practice
"How is academic research linked to activism for social equity? The education scholars in this book share why and how they do research for the public good—with rewards that are balanced by risks, disappointments, and worries. Collectively, they portray a field's striving for and learning about relevance in research."
— Anna Neumann, Teachers College, Columbia University, author of Professing to Learn: Creating Tenured Lives and Careers in the American Research University
"Historically, neither policymakers nor college and university leaders have found higher education research useful. This book is an invaluable resource on how higher education scholars can make their research important to policymakers and engage in advocacy, which is essential today. I wish it had been available when I began my career."
— Arthur Levine, Woodrow Wilson Foundation, coauthor of Generation on a Tightrope: A Portrait of Today's College Student
"Taking It to the Streets presents reflective dialectics on the enduring and contentious relationship between knowledge production and the public good. For these scholars, the relationship between scholarly acuity and public advocacy on matters of educational inequity is a pragmatic as well as professional conviction. Such scholarly reflection is a rarity."
— Ana M. Martínez-Alemán, Boston College, coeditor of Critical Approaches to the Study of Higher Education: A Practical Introduction
"In Taking It to the Streets, Laura Perna brings leading scholars of higher education into dialogue with one another and the reader. Taken individually, essays advance divergent arguments for connecting research and policy. As a conversation among colleagues, the book offers more than the sum of its considerably smart parts."
— Kristen A. Renn, Michigan State University, author of Women's Colleges and Universities in a Global Context
"Perna has done a masterful job of shepherding a who's who of scholars to explore the important linkages among research, advocacy, and policy. In an era of growing interest in higher education's role in advancing American prosperity and equity, this volume is essential reading for scholars and those who are consumers of their work."
— Jamie Merisotis, Lumina Foundation, author of America Needs Talent: Attracting, Educating & Deploying the 21st-Century Workforce