Presentations, Publications, & Working Papers
Featured Publications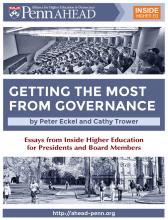 Getting-the-Most-from-Governance
July, 2017
Publications
We know that presidents continually seek to engage their boards in ways that add value. To assist them, Penn AHEAD's Senior Fellow and Director of Leadership Programs, Peter Eckel, together with Cathy Trower of Trower and Trower, wrote a series of essays on board governance for Inside Higher Education. We anticipate that you may have seen some of these essays throughout the year, and wanted to share the entire series as one single booklet.
We hope that you will find some value in these essays. Please feel free to share them with leaders and board members you know.
As you explore the questions and opportunities related to your board and its work, please don't hesitate to reach out to ahead@gse.upenn.edu or to Peter Eckel at eckelpd@upenn.edu.
Thank you for your readership!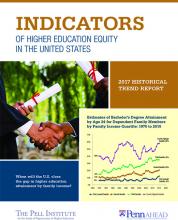 Indicators of higher education equity in the United States: An historic trend report
April, 2017
Publications
Indicators of Higher Education Equity in the United States — 2017 Historical Trend Report (http://pellinstitute.org/indicators/ )is a joint publication of the Pell Institute for the Study of Opportunity in Higher Education (Pell Institute) at the Council for Opportunity in Education (COE) and the Alliance for Higher Education and Democracy at the University of Pennsylvania Graduate School of Education (PennAHEAD). The report compiles data from the nationally representative government statistics, including the Census Bureau household studies, and the National Center for Education Statistics (NCES)-sponsored high school and college longitudinal studies, which track college entrance and completion by family income, socioeconomic status, and race/ethnicity, with the goal of increasing our understanding of issues of equity of access and outcomes in higher education.